3 More Reasons to Love Livegenic!
What does it mean to build the right product, right from the start, the right way? For our team, this means creating a platform that allows us to continuously deliver new features and capabilities to make our client's daily job easier, more productive, and pleasant.
We deliver new capabilities so frequently that you can think of it as delivering them all the time, sometimes, even several times a week! And best of all, without any interruption. This is what modern software development is all about - small incremental changes, made available often and all focused on continuously adding even more value to our clients.
Today, we are excited to announce a next set of capabilities. If you already have access to our platform, chances are you've already had a chance to see them and perhaps even use them. So, here they are:
Field Assignments and Notifications
The ability to issue field assignments is a major function for insurers. For this reason, we have implemented the field assignments capability right into the platform.
When assignments are issued from Livegenic, they not only notify the field resource over email about the assignment issued, but also enable the field claims professional, contractor, or remediation specialist to utilize Livegenic Pro app to select the assignment and add narrated field video documentation and any pictures directly into the claim file.
The way Livegenic Pro works is that upon taking pictures and video, the files from the field resource are captured on the mobile device and automatically synchronized with the Livegenic Platform. This not only resolves common file transfer challenges using the traditional "upload" or "submit" buttons, but also enables the capture these vital artifacts even when internet connectivity is not available. The files will automatically be synchronized the moment the device internet connection is restored.
When the artifacts such as pictures or video arrive from the mobile device to the Livegenic platform, they are automatically deleted from the device, hence freeing up the space, and eliminating frustration for the field staff. The adjuster that issued the assignment is also being notified of the arriving files as soon as they are synchronized, ensuring timely processing of the claim information. And, if your Livegenic account is integrated with your claims management system, we also deliver a notification to the claims management system of the new files added to the claim.
If you run a field claims organization with your own network of field resources, you'll be pleased to know that we've also integrated a process that allows forwarding of the assignments made from the carrier directly to a specific field resource via a one single click.
Live Video Collaboration Connection Status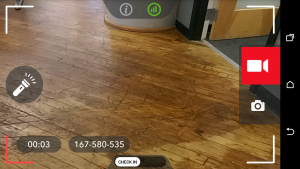 Internet connectivity is never constant. It consistently fluctuates. Even while your phone may be displaying 5 bars, this may not be accurate as the bars demonstrate the strength of the signal and not internet bandwidth availability and its throughput.
Previously, we've delivered a speed test that can be executed by a Livegenic Mobile App user to evaluate the connection quality for collaboration. Now, we've delivered mobile and portal connectivity status icons that demonstrate if the connection quality throughout the live video collaboration session.
On top of the Livegenic App, we've created connectivity bars. Same type of bars are also displayed on top of the video view in the Livegenic Portal. Along the bars, you can also see the mobile and desktop icons that highlight which device connection may experience connection issues.
On the right hand side of the toolbar where you can see the connection icons, the "i" icon can be clicked during the Live Stream to demonstrate numeric connection quality that can be viewed by any technically savvy or curious users.
Gallery View, PDF Photo File, and Zoom
We've made several enhancements to the Pictures display to bring the best and most optimal display to our users. This new display provides a list view and the gallery view that is very convenient for those claims where many pictures are used.
We have also implemented an easy way to acquire and PDF Photo File using the claim information. Simply, select the desired pictures in the list or gallery view and click "Generate PDF Photo File" to download the file. We have also added another button to download all selected pictures as a ZIP archive for those that would like to download selected pictures only.
If you're reading this article for the first time, you should probably know that our platform allows pulling pictures out of the video using the bookmark button.
This feature is valuable for putting together a comprehensive and detailed PDF Photo File from the video on the fly without having to go back to snap more pictures.
Lastly, we know how important it is to look at things closely. For this reason, we've added a simple easy zoom. When previewing images, all you have to do is move the mouse over the previewed image and you'll be able to see several times closer.
What's Next?
This is a very exciting time for our team. We have a lot of great new developments under way. While we would love to take the credit for coming out with of all of the ideas, many of them didn't come from us. They came from our valued customers who enjoy using our service and offer many ideas and suggestions.
We value your feedback and look forward to hearing more of your thoughts on how we can make our platform even better for you, your team, and your organization.
Have ideas? Drop us a line on
contact@livegenic.com
. We'd love to hear from you.