Product Update: Livegenic Measurements 3.0
We're excited to announce the latest major enhancement to the Livegenic platform: Measurements 3.0!

This update represents the latest in a series of enhancements that started with the release of our first "Reference-Based" measurement tool in 2017. Our team used your comments and recommendations to design the next iteration: Augmented Reality (AR) Measurements. And now, thanks to your continued incredible feedback and our team's ongoing mission to enhance the Livegenic platform, we're thrilled to begin the next phase of the Measurements tool!


Features & Benefits:
When designing Measurements 3.0 we took particular care to focus on the comments about usability, so we specifically wanted to make improvements and add new functionality without making the tool more complex. This update significantly simplifies the process of capturing and recording Augmented Reality measurements during a virtual inspection, and provides a host of new capabilities for adjusters and other inside users.
We took our original AR Measurements tool and cut out as many manual steps as possible to help streamline the process, while also giving users additional flexibility when capturing and reviewing measurements:
Embedded Depth Info for all Measurement Photos - Taking a photo in Measurements Mode automatically captures the "depth information" of the scanned surface and embeds that information within the photo itself. This means adjusters can return to a 'Measurement-enabled' photo at any time to generate new measurements.


No more "drag and drop" - Since the surface detection and dimensions are calculated automatically, customers and other mobile users no longer have to manually place 'Pins' to measure objects - they just scan the surface and take a picture.


No Reference Object required - The enhanced Web Portal Measurement Tool allows adjusters to 'draw' any measurements they need on the detected surface, no manual entry or reference objects required.
"From my own experience in claims, it's very exciting to see how quickly AR Measurement technology is advancing - especially for consumer devices like smartphones and tablets. By leveraging our ability to embed depth information directly inside a photo, we're able to give adjusters a tremendous amount of flexibility in terms of how and when they process measurements during the claims process." - Dave Grever, Livegenic SVP of Technical Partnerships



How it Works:
Step 1: Activate Measurements Mode
The mobile user taps the green 'Measurements' button to switch from Camera Mode to Measurements Mode.

Step 2: Take 'Measurement-Enabled' Picture
The device will automatically detect the surface, which will be visible as a grid of orange dots that hover over the surface that is being measured. Once the surface has been detected, the mobile user taps the white 'Snapshot' button to capture and upload the "Measurement-Enabled" picture to the Claim File.

Step 3: Access 'Measurement-Enabled' Picture via Claim File
Once the newly-captured image is available in the Claim File, the web user can click the 'AR Measurement' Button to open the Measurement Tool.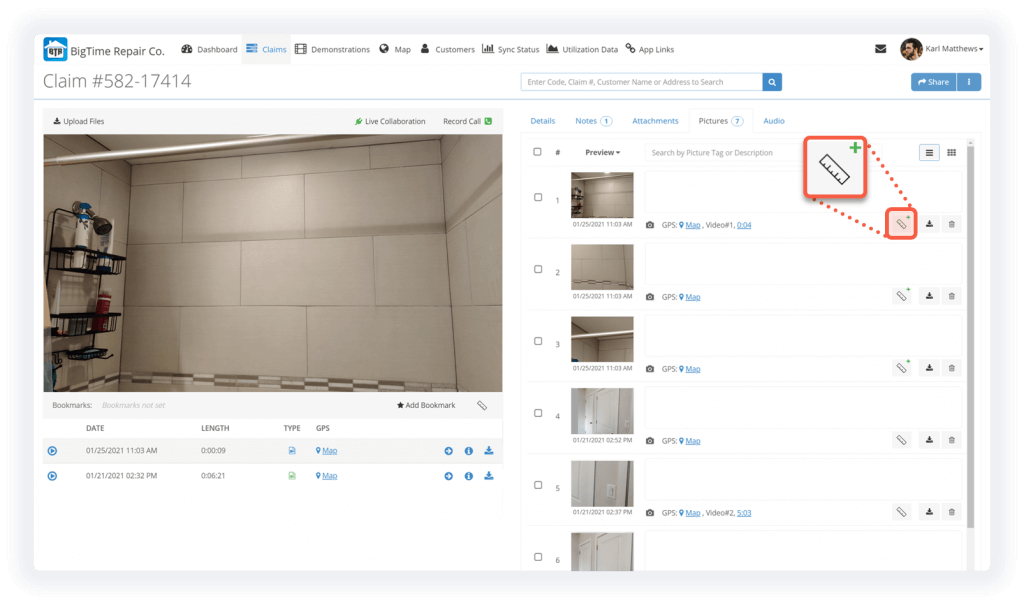 Step 4: Draw and Save Measurements
The center of the measured surface will be highlighted with a transparent white background - this shows which surface was detected and can be measured via the Measurement tool. The web user can now use the Line and Area tools in the bottom-left corner to 'draw' measurements anywhere on the same surface.


Note that measurements can still be placed outside the borders of the "detected area" as long as they are on the same flat surface (such as the back wall in the example below).


The new copy of the image with all additional measurements can now be saved to the Claim File.




Measurements 3.0 is now available for customers and policyholders via the Livegenic MyClaim App, and for professional field inspectors via the Livegenic Enterprise App. If you or your team is interested in learning more about this feature, please reach out to your primary Livegenic contact, or send a direct message to contact@livegenic.com for more.
We have a lot more in-store for 2021, so be sure to follow us on LinkedIn for more updates, enhancements, and features!

About Livegenic:
Livegenic is the industry-leading virtual collaboration platform for insurance. We provide carriers, TPAs, and other insurance organizations with a comprehensive suite of mobile and browser-based solutions that enable them to virtually inspect claims in any environment. Our platform supports a wide variety of inspection workflows, from remote customer collaboration to professional on-site loss inspection.