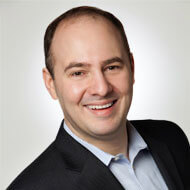 Olek Shestakov
Co-founder, Executive Advisor
Engineer, serial entrepreneur and vivid technologist, Olek's background includes over 20 years leading Lean Technology organizations and numerous innovative initiatives. Prior to co-founding Livegenic, Olek held several executive and leadership roles, successfully delivering world class solutions in Telecom, Digital Video, Broadcasting, IT and Financial Industries.
As Chief Executive Officer of Livegenic, Olek leads and directs overall strategy, key partnerships, clients, product strategy, investment & investor relationships, and shareholder relationships.
Olek has an impressive educational background, holding degrees in Computer Science and Applied Mathematics (Moscow Institute of Physics and Technology), International and Business Law (USUFIT), and is a Ph.D. Candidate in Economics (Taras Shevchenko National University of Kyiv).