New Features: Web Portal Calls, Expanded Maps and More
The latest batch of Livegenic Features gives you even more control over your claim process and customer service.
Calling Customers Through the Web Portal

The first of these is a much-requested update for the MyClaim App: The ability for inside users to start a recorded call with customers directly from the Web Portal.
Those familiar with the MyClaim collaboration process will remember that the typical process involves the customer starting a recorded call via the MyClaim App. With our latest update, we've given inside users the same ability to start a recorded call with customers directly through the MyClaim App.
To start a recorded VoIP call through the Livegenic Web Portal, inside users just need to click the "Checked In" button above the video player, then select "Dial" to start the call. The customer will immediately receive the incoming call through their MyClaim App.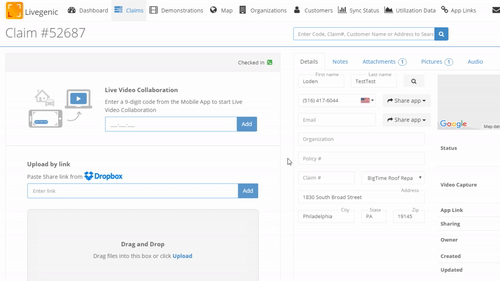 ---

Link Directly to Assignment in the Enterprise App
With our latest update, users on the Web Portal can send direct links to specific assignments through the Enterprise App. Now, when a field inspector or adjuster opens an assignment link, they will be brought directly into that specific claim on the Enterprise App.
With the direct link, there's no need to worry about field inspectors or adjusters accidentally uploading photos, videos, or other content into the wrong claim file.
---
Map Features
To help manage those situations where a high volume of claims are being processed in a small area, we've added some additional features to the Map page.

Now, it is much easier to see which pictures and videos belong to which claims.
With the new update, selecting any map pin will highlight all the other pins in that same claim, which helps identify the specific videos and pictures in areas where many claims are being processed. Additionally, we've added more details about the claim to the message that appears when a pin is clicked.


---
Whether you're in the field or at your desk, we're always working to put better tools in your pocket. Check out these new features, and keep an eye out for more improvements and updates to the Livegenic platform.