The Importance of Virtual Collaboration (for COVID and Beyond)
As the COVID crisis continues to develop, insurers and claims organizations have made substantial efforts to mitigate the virus' impact on their customers and businesses. One of the most overt changes has been the rapid adoption of virtual collaboration technologies as a means of remotely conducting inspections, communicating with insureds, and supporting staff who are working from home.
But the value offered by this technology doesn't stop with the Coronavirus. Many insurance organizations were integrating these capabilities into their core service offerings before the crisis began - COVID simply accelerated that transition. Beyond the obvious safety benefits, the umbrella of "virtual collaboration" provides a flexible foundation for a wide variety of services that are critical to the continued success of carriers and claims organizations alike.
In their recent case study on the effects of COVID-19 on the P&C industry, Deloitte encouraged carriers to prioritize four key objectives in order to succeed during (and after) the pandemic:
While these objectives encompass a wide variety of initiatives, operations, and priorities, one of the core advantages of virtual collaboration is that it can drive value across many different areas of business.
Enhancing Digital Capabilities – From remote claim inspections to "touchless" self-service, it is critical that carriers provide a supportive digital environment that fulfills the needs of their increasingly tech-savvy customers. The value of these tools applies equally to insureds and insurers alike, with benefits ranging from increased customer satisfaction to shorter cycle times.

Innovating for the "New Normal" – Carriers should recognize that current events are not just a temporary deviation from the norm, but the beginning of a fundamental change in the way that the industry operates. Prioritizing the adoption of flexible, customer-centric products is now one of the most important steps towards retaining and supporting a customer base which is particularly sensitive to poor experiences due to the current situation.

Driving Operational Efficiency – COVID has affected business operations at every level, from internal changes like work-from-home requirements to external changes like being prohibited from conducting in-person inspections. To counteract the negative effects of these changes, carriers should implement technology solutions that enable existing operations to be automated, accelerated, or simplified.

Leveraging Data Analytics and AI – In response to the many limitations that the Coronavirus has placed on the insurance workforce, forward-thinking insurers should use the wealth of available data to increase the efficiency of their staff. Today's average policyholder generates a tremendous amount data that can be captured, analyzed, and leveraged throughout many parts of the insurance process.
At the conclusion of the study, Deloitte provides a series of actionable steps that carriers can take to implement these objectives across different functional business areas: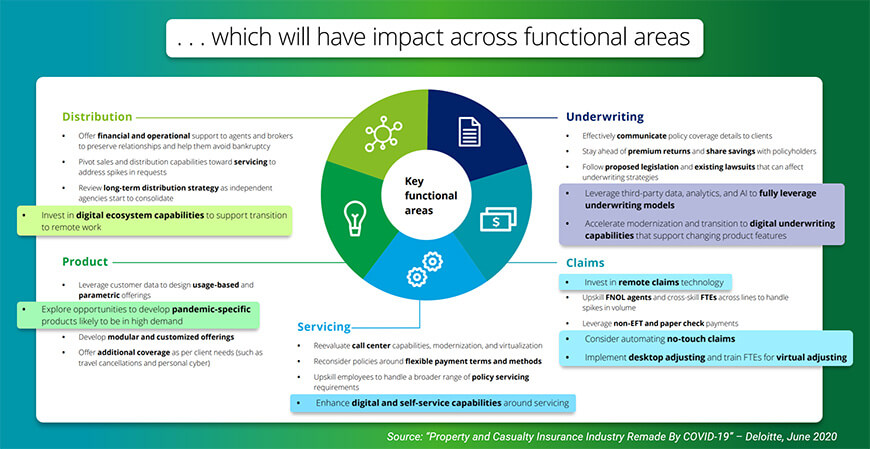 From this overview, it becomes clear how critical virtual collaboration and digital services are to the success of future operations: these technologies are included in the plan for every business area from Product Distribution to Claims to Customer Servicing. Insurers must look to these solutions to not only support the needs of today, but also help prepare for the challenges of tomorrow.